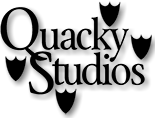 Go to the Big Quack Records Web Site
Click the logo to open the site in a new window.
I just want to record a few good songs ... Big Quack Records is a private label for recording projects with which I am personally involved.
While I've done recordings for others, and will always consider interesting projects, I don't solicit studio work, nor do I sign bands.
=Mark
Copyright 1996 - 2017 Mark & Vicki Dodge
Our 21st Year on the Web